Electro-Acoustic Orchestra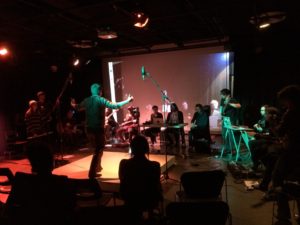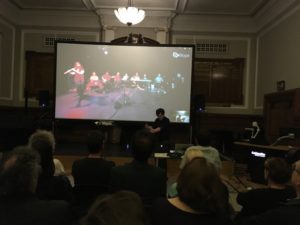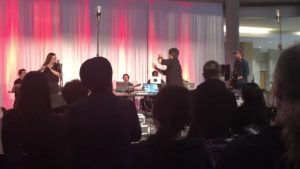 The Electro-Acoustic Orchestra (dir. Doug Van Nort) is an ensemble comprised of a mixture of acoustic and electronic performers. It is an emergent sonic organism that evolves through collective attention to all facets of sound, and soundpainting-based real-time composition.
The conducting language used with the group is based on Soundpainting, with modifications and additions by Van Nort for the electro-acoustic context. In the words of the language's inventor: "The Soundpainter (the composer) standing in front (usually) of the group communicates a series of signs using hand and body gestures indicating specific and/or aleatoric material to be performed by the group. The Soundpainter develops the responses of the performers, molding and shaping them into the composition then signs another series of gestures, a phrase, and continues in this process of composing the piece."
The EAO functions as a year-round resident ensemble for the DisPerSion Lab, and also runs as an undergraduate and graduate course during the Fall terms. EAO integrates members from YorkU, the larger Toronto electroacoustic and improvising communities, and the international community of electro/acoustic improvisers via performances over the internet.
**Due to the Covid-19 Pandemic, beginning June 13 and for the rest of 2020, EAO will perform over the internet using Zoom and related networking technologies. Please get in touch if you would like to join!**
Current and Past members: Eric Bhatnagar, Wei Chen, Kelin Deng, Winston Frederick, Shian Grace, Omar Shabbar, Ahsan Shabbir, Antonia Sinn, Chris Anderson-Lundy, Aaron Corbett, Darlene Dunn, Alex Gage, Glen Hall, Rory Hoy, Ian Jarvis, Ian Macchiusi, Kieran Maraj, Mackenzie Perrault, Paul Petrocelli, Danny Shehan, Lauren Wilson, Brian Abbott, Robert Appleton, David Bandi, Michael Brown, Joshua Buckley, Matheus Caldas, Chris Cerpnjak, Sabatino Muccilli, Paolo Paglucan, Liz Petzold, Carlos deLeon, Peter Elleman, Marcello Fiorini, Alex Laurie, Sam Mason, Mark Mcgugan, Caleb Martin, Matt Miller, Michael Palumbo, William Osmon, Ted Phillips, Fae Sirois, Sean Stover, Dan Tapper, Adam Walters.
Past Concerts:
2020
Cancelled!: April 3 – the Electro-Acoustic Orchestra perform two sets featuring interactive conducting and 28 channel spatialization
Cancelled!: March 29 – the Electro-Acoustic Orchestra and York Wind Ensemble perform Eric Whitacre's Deep Field
2019
December – Dispersion Relation #4: Doug Van Nort with the Electro-Acoustic Orchestra. The fourth event welcomes a special performance with the Electro-Acoustic Orchestra. Two pieces will explore new modes of composing for attentional strategies that blend Soundpainting conducting, cross-performer live processing, interactive spatialization and lighting.
April – Electro-Acoustic Orchestra at the Toronto Media Arts Centre (TMAC). Opening performance for the YorkU Digital Media Exhibition.
April – Doug Van Nort and the Electro-Acoustic Orchestra perform "Intersubjective Soundings vol. 3" for Soundpainting, MYO sensors and ensemble processin in the rich reverberance of the Vari Hall Silo Part of the CBC-Produced CRAM Toronto Event. https://cramtoronto.com/
January – EAO performs at the Tranzac Club in Toronto as part of Synaptic Circus Sundays. Also on the bill: The Nilan Perera Quartet feat: Colin Fisher (drum kit) Bea Labikova (reeds), Wes Neal (contrabasse) and Nilan Perera (guitars etc.).
2018
April –  Telematic Performance: Electro-Acoustic Orchestra (DisPerSion Lab, Toronto), Mary Edwards and Michael Dessen (Institute for Advanced Computational Science, Stony Brook, NY), part of "Network Music: Artistic and Technological Strategies for Public and Private Networks"
2017
December – Malcolm Goldstein / Doug Van Nort / Electro-Acoustic Orchestra @ Array Space, Toronto
October – Real Virtuality: Electro-Acoustic Orchestra in telematic performance with Stream Ensemble (dir. Thomas Gerwin), Connecting DisPerSion Lab and Potsdam, Germany. Part of intersonanzen, Brandenburg New Music Festival.
July –  International Conference on Movement and Computing (MOCO)
Intersubjective Soundings: Doug Van Nort (Soundpainting, MYO-based Sound Transformation) – Deptford Town Hall, Goldsmiths, London, UK with Electro-Acoustic Orchestra – DisPerSion Lab, Toronto
​February – New Adventures in Sound Art's Deep Wireless Festival @ DisPerSion Lab
Tele-Conduction: commissioned works for EAO by Glen Hall, Thomas Gerwin, Doug Van Nort and Sarah Weaver.
2016
November – John Driscoll (founding member of Composers Inside Electronics) / Electro-Acoustic Orchestra  @ DisPerSion Lab
November – EAO @ 416 Creative Improvisers Festival, Tranzac, Toronto.
May – Double-bill with Tout Croche  @ DisPerSion Lab
May – Hour-long set at International Society of Improvised Music (ISIM), Wilfred Laurier University, Waterloo, ON.
2015
December 10th – EAO performing with guests Anne Bourne and Rick Sacks @ Array Space, Toronto
December 7th/8th – Electric Messiah at the Drake, produced by Soundstreams
November 12 – Debut performance, York Tribute Communities Recital Hall, with guest composer Margaret Schedel