Mycelia, Mi.Mu and the Future of Music: a keynote by Imogen Heap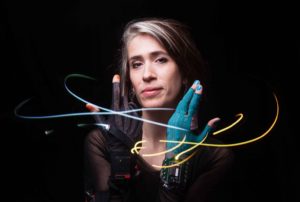 Please join us for a keynote talk, followed by Q&A conversation, with internationally-acclaimed musician Imogen Heap. The talk will include Heap's thoughts on the future of music, ranging from her new blockchain-based project Mycelia for artist/music rights to her Mi.Mu interactive glove-instrument. 
Attendees are also strongly encouraged to attend a Creative Passport workshop hosted by Imogen and the Mycelia group from 2:00-4:30pm in the same room, focused on their new blockchain-based approach to digital rights management for artists. Snacks and coffee will be provided between the keynote and workshop. Please sign up for the workshop here: https://www.eventbrite.co.uk/e/creative-passport-forum-toronto-tickets-59993602480
Time/Date: May 18th
Keynote: 11:30am - 1:00pm
Workshop: 2:30pm - 4:00pm
Location:
Transmedia Lab, 103 Accolade West Building, York University
Presented by the DisPerSion Lab, Mycelia4Music and Patrick Twaddle
Special Thanks to the Departments of Music and Computational Arts
About the speaker: 
London based recording artist Imogen Heap blurs the boundaries between pure art form and creative entrepreneurship. Writing and producing 4 solo albums, one as Frou Frou (with Guy Sigsworth), and collaborating with Jeff Beck, Mika and Josh Groban amongst others, Heap has penned tracks for movies, TV shows and produced the score for Harry Potter and the Cursed Child, winning the 'Outstanding Music in a Play' Drama Desk Award.
Counting 5 Grammy nominations, winning one for engineering and another for her contribution to Taylor Swift's '1989', Heap also received an Ivor Novello Award, The Artist and Manager Pioneer award, the MPG Inspiration Award and an honorary Doctorate of Technology for her MI.MU gloves work: a ground-breaking gestural music making system.
In 2014 she envisioned a flourishing music industry ecosystem through Mycelia and released 'Tiny Human', the first song to use smart contracts on a blockchain.
Creating an artist-led, fair and sustainable decentralized ecosystem, Mycelia's 'The Creative Passport' provides an ID for music makers to connect digitally with the music industry.With three world tours, sold out Royal Albert Hall and Greek Theatre shows and thousands of 5* reviews, last September Heap embarked on a year-long music and technology world tour.
https://www.eventbrite.ca/e/mycelia-mimu-and-the-future-of-music-a-keynote-by-imogen-heap-tickets-60935582969
An Exhibition by MFA Designer and lab supervisee Sharon Reshef
VESSELS is an experimental meditation on the power of sound. Captured in five sculptural objects, binaural recordings, and documentary photography; resonance is enshrined in a gallery exhibition. Activating the ear as a portal, visitors are transported through sonic memories held sacred to the artist, the vessels, and the landscapes they originate from.
---
April 18th, 2019
Electro-Acoustic Orchestra (dir. Doug Van Nort)
Toronto Media Arts Center
Opening performance for the exhibition of curated YorkU Digital Media student projects
---
April 8th, 2019
DisPerSion Lab Open House/Vertical Studio-Lab Demos
Come to hear about and experience recent and in-progress lab projects
including the lab in it's sound-responsive "listening room" state, our interactive lights, wearable haptics and the audio-haptic floor.
---
April 5th 2019
Doug Van Nort: "Soundpainting: More than Meets the Ear"
a presentation of the piece Intersubjective Soundings vol. 3, for the Electro-Acoustic Orchestra
featured performance of the of CBC-produced CRAM event
Vari Hall Rotunda, York University
---
January 27th, 2019
Doug Van Nort and the Electro-Acoustic Orchestra, with the Nilan Perrera Quartet
Synaptic Circus Series, Tranzac Club, Toronto
---
January-February 2019
Calling all sound/code artist-hackers!
What:
This is a call for sound artists, digital musicians and composers to participate in a distributed, pro-hacking and open-source electronic music composition and instrument design experiment under development and direction by Michael Palumbo and Dr. Doug Van Nort of the Distributed Performance and Sensorial Immersion (DisPerSion) Lab. This research-creation project will comprise brief phases of programming and hacking of software-based digital musical instruments, composing etudes, and engaging in short group improvisations. Improv sessions will be held in January and February 2019, culminating in at least one public performance (participation in the public portion is optional).
Please use the contact form in order to express interest in taking part.